Elizabeth "Lizzie" Rovsek is an Orange County housewife.
Lizzie brings her combination of charm, sex appeal, and intelligence to Orange County. A former Miss Kentucky, Lizzie is back in the pageant circle and has been busy designing swimsuits from her company Sun Kitten Swimwear for the Miss USA Pageant. Living in Ladera Ranch with her husband Christian and two sons, she is eager to grow her family and hopes to add a third child, hopefully a girl, to her house full of boys.
She appeared in the ninth season as a full time cast member.
Season 9 (2014)
Lizzie joined the cast of the ninth season during pre-production in Fall 2013 along with Shannon Beador and Danielle Gregorio (who would later be demoted)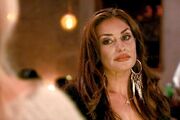 who were cast to replace fired cast members Gretchen Rossi and Alexis Bellino as well as Lydia McLaughlin who had decided not to return from the eighth season. Lizzie made her debut in the fourth episode of the ninth season
Pretty Ugly
appearing at Daniele's ugly sweater party. Although making what seemed to be a fast friendship with Tamra the friendship was short lived and by the end of the season the two would not be speaking after the events of
Eat, Pray, Run
.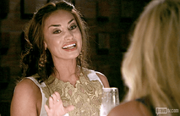 She would also have issues with Vicki Gunvalson in I Couldn't Chair Less by both would become friends by the end of the season and the future. Heather Dubrow and Shannon Beador both also got along with Lizzie. Lizzie's main storylines in the ninth season was her balance between her work and family life as well as exposing Tamra during the Bali dinner. She appeared in both parts of the season's Reunion and Secrets Revealed.
Season 10 (2015)
Lizzie began filming the shows tenth season in early 2015 continuing her role as a full time cast member. She filmed many solo scene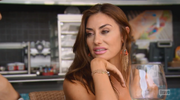 s including a big birthday party thrown by her husband Christian to make up for the lack of birthday the previous year in Season Nine's
Valentines and Birthday Whines.
Upon return from filming in Tahiti both production and Lizzie came to an agreement that her role would be reduced to 'Friend' for the remainder of the season. The demotion resulted in many of her solo scenes being cut. She was also not present at the Season 10 reunion and did not return for Season 11.
Season 12 (2017)
Two years later in February 2017, Lizzie returned to the show for a guest appearance in twelfth season's episode
Loose Lips Sink Friendships
where she discussed rumors of Eddie Judge's sexuality.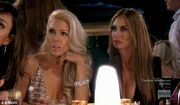 In 2018, Lizzie filed for divorce from Christian. She also has a close friendship with current cast member Emily Simpson.
Also in the same year she stated that she was informed by production during the filming of the tenth season that a longer running cast member was adamant to get her off the show. Rovsek has said this was Tamra Judge,
Taglines
Taglines

Season 1

Doesn't appear

Season 2

Doesn't appear

Season 3

Doesn't appear

Season 4

Doesn't appear

Season 5

Doesn't appear

Season 6

Doesn't appear

Season 7

Doesn't appear

Season 8

Doesn't appear

Season 9

Standing out is much more fun than fitting in.

Season 10

Doesn't appear
Community content is available under
CC-BY-SA
unless otherwise noted.