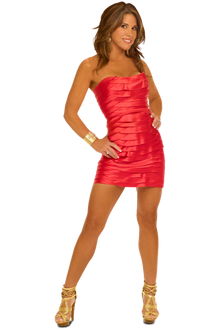 Southern California born and bred, Lynne Curtin, 51, joined The Real Housewives of Orange County during the middle of Season 4. She is married to Frank, 52, and they have two teenage daughters, Raquel, 19, and Alexa, 16. Lynne is excited for her newfound independence as she strikes out on her own as a jewelry entrepreneur and develops her cuff line. On the other hand, her husband Frank's construction business has screeched to a halt in a troubled economy.
The Curtins decide it is best to downsize from their Capistrano Beach home to a smaller rental in Laguna Beach. As their finances continue on a downward spiral, they face ongoing troubles with their new rental, but this doesn't stop Lynne from getting a face-lift for herself or rewarding wild teenage behavior by buying a nose job and a $1200 designer purse for Raquel.
The teenage Curtin daughters continue to display total disregard for their parents and their household rules. The laid-back Curtins can't help but go easy on their girls, so they turn to a professional life coach who specializes in teenage behavior.
Lynne Curtin and her family currently reside in a rental in Aliso Viejo, California.
Lynne was let go before the sixth season began production in 2010. According to Lynne she never understood the decision and stated she had always had a good relationship with Bravo,". Although her full time cast member spot was filled by Peggy Tanous she did return to the show in what was meant to be a 'Friend' role. She filmed scenes with Tamra and Fernanda and also a confrontation meeting with Gretchen which is included on the sixth seasons "The Lost Footage" bonus episode.
Lynne returned again the in shows spin off Tamra's OC Wedding in 2013 as a wedding guest and made her final guest appearances in the shows tenth season by attending in Tamra's grand daughter's baby shower in the season premiere Under Construction where Tamra revealed Lynne and Frank has now seperated aswell as the news Lynne was now a grandmother and Tamra's baptism in the season finale Baptism By Fire.
Community content is available under
CC-BY-SA
unless otherwise noted.