The Real Housewives of D.C.
Current Housewives
Cat Ommanney (Season 1)
Lynda Erkiletain (Season 1)
Mary Schmidt-Amons (Season 1)
Michaele Salahi (Season 1)
Stacie Scott Turner (Season 1)
Country of Origin
United States
Original Language
English
No. of Seasons
1
No. of Episodes
11
Preceded by
The Real Housewives of New Jersey
Followed by
The Real Housewives of Beverly Hills
The Real Housewives of D.C. is an American reality television series that debuted August 5, 2010 on Bravo. It is the fifth installment in the network's Real Housewives franchise. The season was shot shortly after the Presidential election and inauguration, showcasing D.C. and its political social scene in its truest form.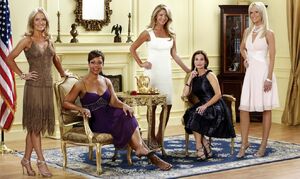 On April 7, 2011, Bravo announced that The Real Housewives of D.C. had been canceled, despite good ratings. This was a first in the history of the franchise that one of its United States installments failed to be renewed due to the Salahi-White House incident, which the network received negative reviews due to the scandal and legal troubles.
The Real Housewives of Potomac premiered on January 17, 2016 and is set just 15 miles outside of the Washington D.C. area.
Housewife History
Trivia
RHODC is the first domestic Real Housewives installment to only consist of one season.