The Real Housewives of Miami is an American reality television series that debuted February 11, 2011 on Bravo. It is the seventh installment in the network's Real Housewives franchise. Lisa Hochstein, Alexia Echevarria, Larsa Pippen, Julia Lemigova, Guerdy Abraira, and Dr. Nicole Martin makeup the most recent cast of RHOM.
History
On March 10, 2010, Bravo announced the series (then titled Miami Social Club) had been picked up as a restructuring of the 2009 series, Miami Social. Later, after filming was completed, Bravo chose instead to make it another installment in the network's The Real Housewives franchise. The Real Housewives of Miami premiered on February 22, 2011. Production of the series by MCFilmworks started in February 2010 through June 2010. This series was not originally filmed and set to be a part of The Real Housewives franchise, however the change was decided after looking through some of the footage from the first season.
Season 2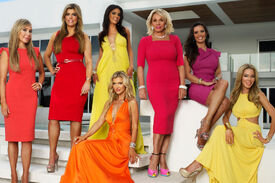 The second season premiered September 13, 2012 with a revamped cast. Larsa Pippen and Cristy Rice left the show. Lea Black, Adriana DeMoura, and Marysol Patton all returned for season two. The women were joined by new housewives Lisa Hochstein, Joanna Krupa, Karent Sierra, and Ana Quincoces. Alexia Echevarria returned to the series in a recurring role due to commitment constraints caused by time needed to care for her son Frankie who received serious injuries in a car crash the prior year. 
The second season saw a completely madeover title sequence intro for the series. The theme song from season two and on is a remixed version of Adriana's song "Feel the Rush".
RHOM saw its first physical altercation occur between housewives Joanna and Adriana. This occurred after Adriana grew frustrated with Joanna's incessant need to involve herself in the other women's drama at a charity event hosted by Lisa Hochstein.
Season 3
Bravo officially announced the third season renewal on April 2, 2013 — although no cast changes, nor premiere date, were revealed.The third season premiered on August 12 with Adriana, Lea, Lisa, Joanna, and  Alexia as the main housewives. The season three reunion was filmed in New York City.
The Aftermath of Season 3
Alexia Echevarria confirmed on February 6, 2014 that she will return for a fourth season. Bravo has made no decision if Miami will return for a fourth season. In June 2014, Joanna Krupa announced that she will no longer do the show.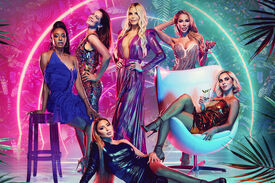 Season 4
After 8 years of not being on Bravo Tv, the Real Housewives of Miami was finally picked up by NBC streaming service Peacock. Alexia Echevarria, Lisa Hochstein, and Larsa Pippen return to the main cast with the addition of 3 newbies, Dr. Nicole Martin, Guerdy Abraira, and Julia Lemigova. 3 friends join the cast as well, including OG's Marysol Patton and Adrianna de Moura, and new friend Kiki Barth.
Housewife History