The Real Housewives of New Jersey
Current Housewives
Teresa Giuidice (Season 1–)


Melissa Gorga (Season 3–)
Dolores Catania (Season 7–)
Margaret Josephs (Season 8–)
Jennifer Aydin (Season 9–)
Jackie Goldschneider (Season 9–)

Former Housewives
Jacqueline Laurita (Seasons 1–5, 7)


Caroline Manzo (Seasons 1–5)
Dina Manzo (Seasons 1–2, 6)
Danielle Staub (Seasons 1–2)
Kathy Wakile (Seasons 3–5)
Amber Marchese (Season 6)
Teresa Aprea (Season 6)
Nicole Napolitano (Season 6)
Siggy Flicker (Seasons 7–8)

Country of Origin
United States
Original Language
English
No. of Seasons
11
No. of Episodes
154
Preceded by
The Real Housewives of Atlanta
Followed by
The Real Housewives of D.C.
The Real Housewives of New Jersey is an American reality television series that debuted May 12, 2009 on Bravo. It is the network's fourth installation of the Real Housewives franchise. RHONJ chronicles the lives of wealthy Italian-American women living in New Jersey and heavily revolves around their family dynamics. Teresa Giudice, Melissa Gorga, Dolores Catania, Margaret Josephs, Jennifer Aydin, and Jackie Goldschneider makeup the current cast of RHONJ.
Production
The Real Housewives of New Jersey was first announced when Bravo released its 2008-2009 programming on April 15, 2008. It was later announced that the series would debut on May 12, 2009, with Caroline Manzo, Jacqueline Laurita, Teresa Giudice, Dina Manzo, and Danielle Staub as the cast. For the first time in the franchise, the series followed housewives who are related to one another: sisters Caroline and Dina were married to brothers Albert and Tommy Manzo, and Jacqueline Laurita is married to Caroline and Dina's brother, Chris Laurita.[4] Dina and Tommy Manzo would later end up divorced. With the first season averaging 2.55 million total viewers, Bravo announced the renewal of the second season on October 6, 2009. The second season premiered on May 3, 2010, with Dina Manzo departing the series after the seventh episode of the season.
The third season renewal was announced on August 31, 2010. It was later revealed on September 7, 2010, that Danielle Staub would not returning to the show. Season 3 premiered on May 16, 2011, with a 90-minute episode as well as new housewives Melissa Gorga and Kathy Wakile. The third season delivered the highest rated season premiere in the network's history and the highest rated season premiere in The Real Housewives franchise, but was later surpassed by The Real Housewives of Atlanta. After season 3, The Real Housewives of New Jersey was the only The Real Housewives series within the franchise that features a main cast who are all married until The Real Housewives of Miami also met the criteria starting with its third season. Season 4 was announced on June 7, 2011, with the fourth season premiering on April 22, 2012. All of the Season 3 housewives returned. Bravo announced that the fifth season would premiere June 2, 2013, with the season four cast returning. Kim DePaola and Jennifer Dalton have joined as "friends of the housewives".
The sixth season premiered on July 13, 2014. It featured the return of Dina Manzo as a full-time cast member and new cast members Amber Marchese, Teresa Aprea and Nicole Napolitano. Wakile was demoted to a "friend of the housewives" role, while Laurita appeared as a guest. Marchese, Aprea, Napolitano and Dina Manzo left the show after the sixth season. Laurita returned as a full-time cast member in the seventh season, which premiered on July 10, 2016. The season also featured Dolores Catania and Siggy Flicker as new cast members, while Wakile and Rosie Pierri appeared as "friends of the housewives". Aprea and Napolitano also appeared as guests. The season marked as the final appearance of Laurita, Wakile and Pierri in the show.
Staub returned in the show as friend of the housewives for the eighth season, which premiered on October 4, 2017. It also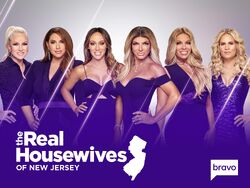 featured Margaret Josephs as the new cast member. Flicker left the show afterwards. The ninth season premiered on November 7, 2018, featuring Jennifer Aydin and Jackie Goldschneider joining the cast. While Staub returned as a friend once again. The tenth season premiered on November 6, 2019, featuring the cast of the previous season. Staub, who appeared as a friend for the third consecutive season, resigned from the series for the second time in January 2020.
Filming for the upcoming eleventh season was postponed by Bravo in March 2020 due to the 2019–20 coronavirus pandemic.
Housewives History
Episodes
Season
Episodes
Season Premiere
Season Finale
Reunion
1
10
May 12, 2009
June 18, 2009
June 23, 2009
June 25, 2009
2
18
May 3, 2010
August 23, 2010
August 30, 2010
September 6, 2010
3
21
May 16, 2011
October 9, 2011
October 16, 2011
October 23, 2011
4
24
April 22, 2012
September 23, 2012
September 30, 2012
October 7, 2012
October 14, 2012
5
22
June 2, 2013
September 29, 2013
October 6, 2013
October 13, 2013
6
19
July 13, 2014
October 19, 2014
November 2, 2014
November 6, 2014
November 11, 2014
7
18
July 10, 2016
October 30, 2016
November 6, 2016
November 13, 2016
8
16
October 4, 2017
January 10, 2018
January 17, 2018
January 24, 2018
9
18
November 7, 2018
February 13, 2019
February 20, 2019
February 27, 2019
March 6, 2019
10
19
November 6, 2019
February 26, 2020
March 4, 2020
March 11, 2020
March 18, 2020
Trivia
The first Real Housewives franchise to include main cast members that are related (through blood and marriage).
Caroline and Dina Manzo (sisters)
Melissa Gorga and Teresa Giudice (sisters-in-law)
Teresa Aprea and Nicole Napolitano (twin sisters)
Kathy Wakile and Teresa Giudice (first cousins)
Jacqueline Laurita (sister-in-law to Dina and Caroline Manzo)
RHONJ is the first series to include two main housewives that are identical twins.
Has, from the first season, featured a predominantly Italian-American cast.
First series of its kind to include two main cast members sharing a tagline and title card in the series' intro.